ALTO 2015
Alto is the result of each and every winery worker's effort due to their devotion, from the plant to the bottle.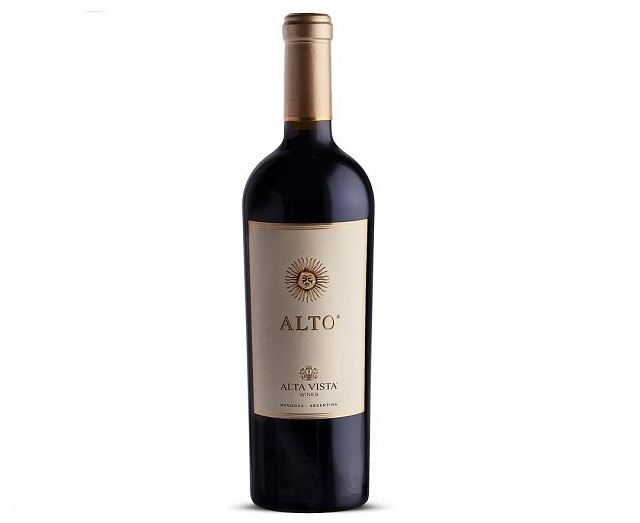 VINIFICATION COMPOSITION TECHNICAL INFORMATION 2015 "Deep ruby-colored wine with complex aromas reminiscent of black fruits, such as blackberries, spices and chocolate. In the mouth, elegant and open with silky tannins and long intense persistency. It is recommended to decant it before drinking it cold, between 16ºC and 18ºC. Cellar time: over 10 years". Head Winemaker 80 % Malbec (Las Compuertas, Luján de Cuyo) 20 % Cabernet Sauvignon (El Cepillo, Valle de Uco) Alcohol Sugar PH Acidity A manual harvest is carried out small in 17-kilo boxes. Clusters are carefully set on a double selection table, where only the best berries are chosen. After destemming, grapes are carried in small stainless steel tanks with elevator to 52-hectoliter cement tanks. A pre-fermentation maceration is done for 3 days at 5ºC. Alcoholic fermentation is carried out with natural yeasts for 8-10 days with regular manual pigeages. Vinification finishes with a long maceration process at 28ºC.
2015 HARVEST An atypical vintage, with sanitary pressure and higher frequency of rain and humidity. Acidity levels were positive and the intensity of aromas was above average.
TERROIRS: Las Compuertas, Luján de Cuyo El Cepillo, Valle de Uco
YIELD: From 3,000 to 5,000 kg/ha (3 plants per bottle)
BOTTLES PRODUCED: 6776.
BOTTLED March 2018.
AGING: It is aged for 14 months in new French oak barrels and it is racked twice to remove natural sediment and provide the necessary oxygen that helps wine to evolve.
COMPOSITION:80 % Malbec (Las Compuertas, Luján de Cuyo) 20 % Cabernet Sauvignon (El Cepillo, Valle de Uco)
TECHNICAL INFORMATION 2015
Alcohol : 14.5 %
Sugar:2.36 g/l
PH:3.58
Acidity:6.80 g/l
WINE TASTING NOTES:"Deep ruby-colored wine with complex aromas reminiscent of black fruits, such as blackberries, spices and chocolate. In the mouth, elegant and open with silky tannins and long intense persistency. It is recommended to decant it before drinking it cold, between 16ºC and 18ºC. Cellar time: over 10 years"
2017
95 pts. - Tim Atkin, 03/2021 (UK)
94 pts. - Wine Advocate, 02/2021 (USA)
2015
98 pts. - James Suckling, 01/2021 (USA)
98 pts. - James Suckling, 01/2020 (USA) *2020 TOP 100 WINES IN THE WORLD* *2020 #13 TOP 100 WINES IN ARGENTINA*
96 pts. - Tim Atkin, 03/2020 (UK)
95 pts. - Wine Advocate, 09/2019 (USA)
2014
95 pts. - James Suckling, 01/2021 (USA)
95 pts. - James Suckling, 07/2017 (USA)
95 pts. - Tim Atkin, 03/2017 (UK) *TOP 100*
92 pts. - Wine Advocate, 09/2019 (USA)
2013
95 pts. - Wine Spectator, 03/2020 (USA)
94 pts. - Wine Advocate, 09/2019 (USA)
94 pts. - Wine Advocate, 09/2016 (USA)
93 pts. - Tim Atkin, 03/2019 (UK)
2011
94 pts. - James Suckling, 01/2021 (USA)
94 pts. - James Suckling, 06/2015 (USA)
93 pts. - Tim Atkin, 03/2018 (UK)
93+ pts. - Robert Parker, 07/2018 (USA)
2010
96 pts. - James Suckling, 01/2021 (USA)
95 pts. - Wine Spectator, 11/2013 (USA)
92 pts. - Wine Advocate, 05/2014 (USA)
2009
95 pts. - James Suckling, 01/2021 (USA)
95 pts. - Wine Advocate, 12/2011 (USA)
93 pts. - Wine Spectator, 11/2011 (USA)
2007
95 pts. - Wine Advocate, 08/2009 (USA)
94 pts. - Wine Spectator, 08/2010 (USA)
2006
95 pts. - James Suckling, 01/2021 (USA)
95 pts. - Wine Spectator, 11/2008 (USA)
95 pts. - Robert Parker, 12/2008 (USA)
2005
94 pts. - Wine Spectator, 06/2008 (USA)
91 pts. - Wine Enthusiast, 12/2008 (USA)
91 pts. - International Wine Cellars, 01/2009 (USA)
93 pts. - Robert Parker, 07/2018 (USA) 2004 93 pts. - Wine Spectator, 09/2006 (USA) 2003年:93 pts. - Wine Advocate, 12/2007 (USA)
92 pts. - Wine Spectator, 12/2005 (USA)
92 pts. - International Wine Cellars, 01/2009 (USA)
2002
96 pts. - James Suckling, 01/2021 (USA)
92 pts. - Wine Spectator, 02/2005 (USA)
91 pts. - Wine Enthusiast, 07/2005 (USA)
1999
GOLD MEDAL - Hyatt Wine Awards 2000 (CL)
GOLD MEDAL - Intervin (CA)
GOLD MEDAL – International Eastern Wine Competition 2002 (USA)
1998
GOLD MEDAL - Hyatt Wine Awards (CL)
2000
94 pts. - Robert Parker, 07/2018 (USA)