TERROIR SELECTION MALBEC
A harmonious selection of the best terroirs of Malbec grapes. Assemblage is carried out based on the characteristics of each vintage.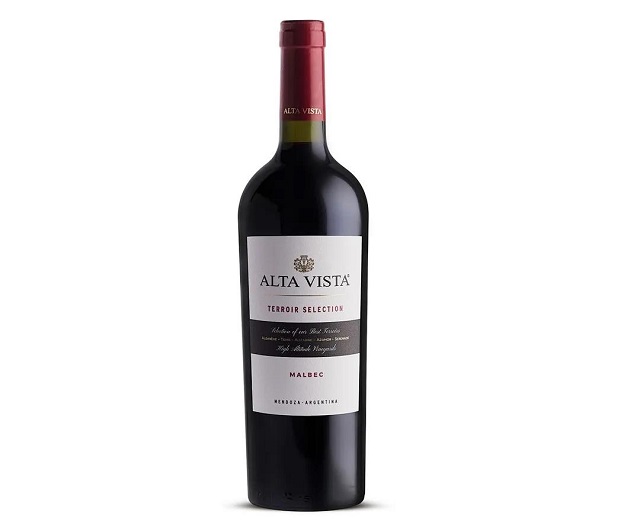 VINIFICATION:A manual harvest is carried out in small 17-kilo boxes. Then, grapes are carefully set on a double selection table. After destemming, grapes are placed in 52-hectoliter cement tanks by gravity. Vinification starts with a cold maceration process, and continues with an alcoholic fermentation with regular delestages to enhance extraction at temperatures under strict controls. Finally, a long maceration process at around 28ºC allows the wine to express its full potential.
TERROIRS
12 % Alizarine Vineyard (Las Compuertas, Lujan de Cuyo)
15 % Azamor Vineyard (Las Compuertas, Lujan de Cuyo)
65 % Albaneve Vineyard (Campo de los Andes, Valle de Uco)
8 % Temis Vineyard (El Cepillo, Valle de Uco)
YIELD: Between 5,000 and 6,000 kg/ha (2 plants per bottle).
BOTTLES PRODUCED: 80000.
AGING: In French oak barrels for 12 months (1/3 new barrels, 1/3 second use, and 1/3 third use barrels).
COMPOSITION:100 % Malbec
TECHNICAL INFORMATION 2017
Alcohol:Alcohol:14.6%
Sugar:1.8 g/l
PH:3.65
Acidity:5.6 g/l
WINE TASTING NOTES:Deep violet with aromas reminiscent of spices, fresh ripe fruits and animal scents. In mouth, freshness, openness, soft tannins and long finish dominate. It is recommended to decant it and drink it cold, between 16ºC and 18ºC. Cellar time: over 8 years".
2018
93 pts. - James Suckling, 01/2021 (USA)
93 pts. - Tim Atkin, 03/2021 (UK)
92+ pts. - Wine Advocate, 02/2021 (USA)
2017
93 pts. - Tim Atkin, 03/2019 (UK)
92 pts. - James Suckling, 01/2020 (USA)
92 pts. - Wine Advocate, 09/2019 (USA)
2016
92 pts. - Tim Atkin, 03/2019 (UK)
92 pts. - James Suckling, 04/2019 (USA)
2015
94 pts. - Tim Atkin, 03/2018 (UK)
93 pts. - James Suckling, 04/2018 (USA)
92+ pts. - Robert Parker, 07/2018 (USA)
2014
94 pts. - James Suckling, 01/2017 (USA)
93 pts. - Tim Atkin, 03/2017 (UK)
91 pts. - Wine Enthusiast, 01/2017 (USA)
91 pts. - Wine Advocate, 09/2016 (USA)
2013
91 pts. - Wine Spectator, 02/2017 (USA)
91 pts. - James Suckling, 05/2016 (USA)
92 pts. - Tim Atkin, 12/2015 (UK)
2012
92 pts. - Wine Advocate, 08/2015 (USA)
92 pts. - James Suckling, 06/2015 (UK)
91 pts. - Wine Spectator, 07/2015 (USA) SILVER OUTSTANDING - IWSC 09/2015 (UK) 2011年:91 pts. - Wine Spectator, 08/2015 (USA)
94 pts. - James Suckling, 06/2014 (USA)
91 pts. - Wine Advocate, 05/2014 (USA) TROPHY - Argentina Wine Awards 03/2014 (ARG)
2010
GOLD MEDAL - Mundus Vini 2013 (DE)
90 pts. - Stephen Tanzer, 03/2014 (USA)
SILVER MEDAL - Argentina Wine Awards, 02/2013 (ARG)
MÉDAILLE D'ARGENT – Les Citadelles du Vin 06/2013 (FR)
2009
91 pts. - Wine Spectator, 02/2012 (USA)
SILVER MEDAL - International Wine Challenge 2012 (UK)
2008
91 pts. - Wine Advocate, 12/2011 (USA)
90 pts. - Descorchados, 08/2011 (CL)
2007
91 pts. - Wine Advocate, 08/2009 (USA)
90 pts. - Wine Spectator, 08/2010 (USA)
GOLD MEDAL - Concours Mondial de Bruxelles 2010 (BE)
2006
91 pts. - Wine Spectator, 09/2008 (USA)
91 pts. - Robert Parker, 12/2008 (USA)
GOLD MEDAL - Mundus Vini, 08/2009 (DE)
2005
90 pts. - Wine & Spirit Magazine (USA)
BRONZE MEDAL - International Wine Competition 06/2007 (USA)
SILVER MEDAL - Hyatt Wine Awards 2007 (ARG)
SILVER MEDAL - International Wine Challenge 2008 (UK)
2004
91 pts. - Wine Spectator, 09/2006 (USA)
92 pts. - Wine Advocate, 12/2007 (USA)
GOLD MEDAL - IWC 2006 (UK)
*ARGENTINIAN RED TROPHY*
2003
91 pts. - Wine Spectator, 12/2005 (USA)
*TOP 100* SILVER MEDAL - Vinalies Internationales 2006 (FR)
SILVER MEDAL - Mundus Vini 2005 (DE)