ATEMPORAL BLEND
A wine-making method shaped by our french heritage. Most of the grapes come from one terroir with different vines, which are brought together to produce only one wine.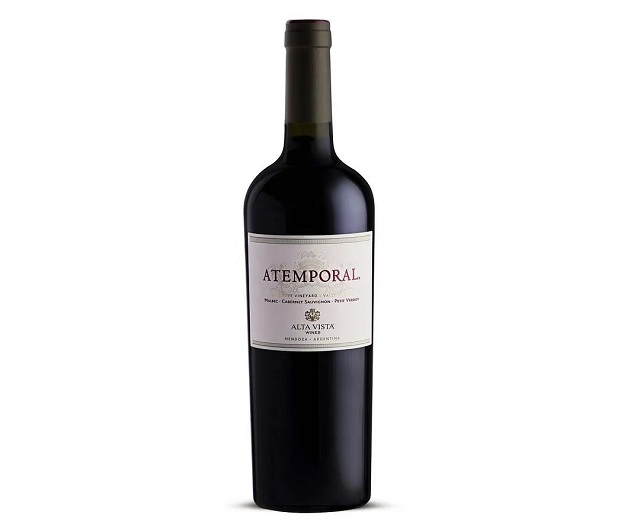 VINIFICATION:Each varietal is hand-picked once it is fully ripe. Malbec comes first, then Cabernet Sauvignon and, finally, Petit Verdot. Grapes are taken to the winery in small boxes to protect the berries. Clusters pass through a double sorting table. Destemming is carried out, and 10,000-liter cement tanks are filled. The vinification of each varietal is separately done, then, a 3-day maceration process at low temperature begins to give way to an alcoholic fermentation at 25-27°C. During this process, different maceration techniques are performed, such as delestages, pigeages, and pump overs, so that each varietal is able to express its full potential and to contribute to an ideal extraction of aromas, tannins, and polyphenol.
TERROIR: 100% Albaneve Vineyard Campo de los Andes, Valle de Uco, Mendoza.
YIELD: 8,000 kg/ha in 21-year-old homogeneous vineyards.
AGING: The three varietals are harvested, fermented and aged separately in 225-liter French oak barrels for a year.
COMPOSITION:62% Malbec 30% Cabernet Sauvignon 8% Petit Verdot
TECHNICAL INFORMATION 2018
Alcohol:Alcohol:14.5%
Sugar:1.90g/l
PH:3.58
Acidity:5.40 g/l
WINE TASTING NOTE:"In nose, complex due to its three vines. Notes of violet, plums, blueberry and fig. Also, there are some hints of thyme and licorice. In mouth, it is a balanced combination: The silkiness of the Malbec, the structure and power of the Cabernet Sauvignon, and the intensity of the Petit Verdot that integrates this assemblage. A complex and persistent wine. To be served cold, between 16°C and 18°C. Potential storing time 5-8 years".
2018
92 pts. - James Suckling, 01/2021 (USA)
92 pts. - Tim Atkin, 03/2021 (UK)
92 pts. - Wine Advocate, 02/2021 (USA)
2017
94 pts. - James Suckling, 01/2020 (UK)
91 pts. - Wine Advocate, 09/2019 (USA)
91 pts. - Tim Atkin, 03/2020 (UK)
2016
91 pts. - Tim Atkin, 03/2019 (UK)
92 pts. - James Suckling, 04/2019 (USA)
2015
93 pts. - Tim Atkin, 03/2018 (UK)
90 pts. - Robert Parker, 07/2018 (USA)
2014
94 pts. - James Suckling, 06/2017 (USA)
2013
93 pts. - Tim Atkin, 12/2015 (UK)
SILVER MEDAL - Decanter Wine Awards, 06/2016 (UK)
2012
90 pts. - Wine Advocate, 08/2015 (USA)
90 pts. - James Suckling, 06/2015 (USA)
SILVER MEDAL - Argentina Wine Awards 2015 (ARG)
2011
92 pts. - James Suckling, 06/2014 (USA)
90 pts. - Wine Advocate, 05/2014 (USA)
2010
91 pts. - Descorchados, 09/2013 (CL)
2009
90 pts. - Wine Advocate, 10/2012 (USA)
TROPHY - Argentina Wine Awards 2012 (ARG)
2008
90 pts. - Robert Parker, 2009 (USA)